Events survey: Coming soon, your fave experiences!
We wanted to say thank you to all 817 Somersett residents who responded to the recent Events Committee survey!  So many of you took the time to give us your opinions and votes, and we have great information on which to move forward. 
We also received over 100 notes from respondents stating they would like to help with events.  Thank you! Thank you! We will be in touch!
A majority of y'all voted for anything with live music and food!  So we are considering those events first.
We also ranked the responses by the number of YES votes, and we're looking at the top vote-getters. But we're also considering second-tier events that would easily fill up! (You can find all the details of the survey links below.)
The Committee currently meets every Thursday at 3 pm. We intend to finalize the additional 2021 events promptly.
In addition to the votes and offers of help, we received many insightful comments. A recurring one was about bringing back the Farmers Market and we agree with you! But as a result of our initial phone calls, we've determined that "this just isn't the year" with the uncertainty of future COVID restrictions. We'll continue to pursue this for you and keep you informed.  
Another common question was whether our Association dues would go up to pay for new events. The answer is a simple NO!  The SOA Board has directed us to organize events that bring us together, but to stay out of our wallets!  There are many events that will be loads of fun that do not require large budgets to produce. Any "biggies" such as a dinner dance will pay for themselves.
The Events Committee is honored to serve you! We look forward to meeting you at one of the upcoming events.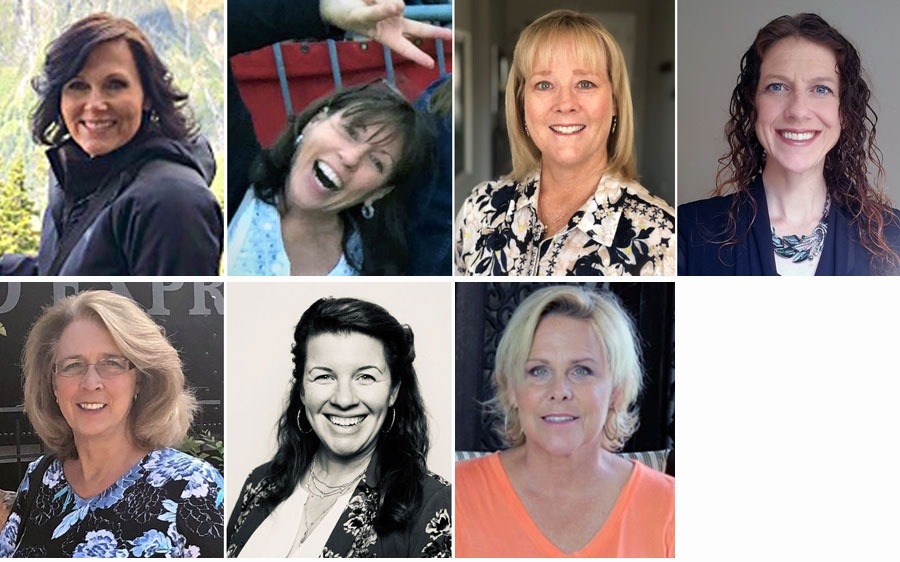 Somersett Events Committee members
Top row, from left: Gina Bayless (Talon Pointe), Sandy Capalongan - Vice Chair (The Boulders), Louise Jordan (Wintercreek) and Amber Leland (Mountain Crest).
Bottom row, from left: Doreen Maples (Back Nine Trail), Jaime Villarino-Eilenberger (Back Nine Trail), and Jenny Williamson - Chair (The Cliffs).