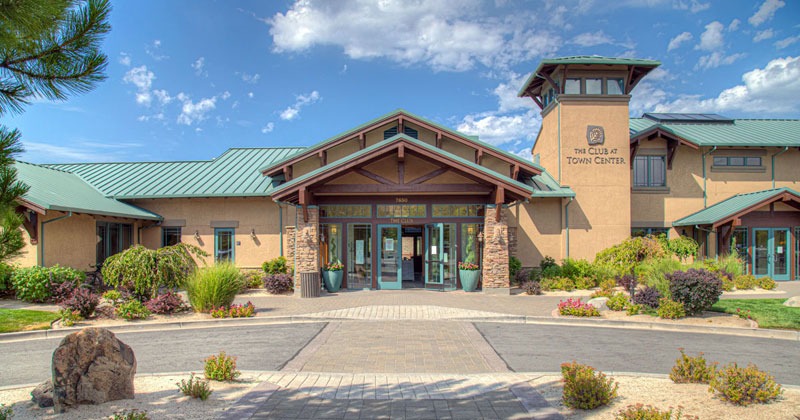 The Club at Town Center, 24,000-square-foot, 9-million-dollar facility, is the showpiece of the Somersett resident amenity program, which also includes the
Canyon Nine par-3 golf course
and
27 miles of hiking and biking trails.
Hours & Information
Monday – Friday: 5:30 a.m. to 9 p.m.
Saturday: 7 a.m. to 9 p.m.
Sunday: 7 a.m. to 7 p.m.*
*The Club will close at 9 p.m. on Sundays from May through September
Address: 7650 Town Square Lane, Reno, NV 89523
Phone: 775.787.4500

Hours of operation, programs and amenities are subject to change at any time.
The Club at Town Center is open to Somersett residents and qualified Somersett Country Club members. Sierra Canyon residents enjoy their own facility, Aspen Lodge, an age-restricted social and recreational facility for the exclusive use of Sierra Canyon residents.
Enjoy a sunset, relax with a book in front of the fireplace, check your e-mail from your laptop on the wireless network or watch the golfers on the Canyon Nine from the outdoor deck.
Guests at the Club
Guests of Club members are invited to enjoy our facilities. Guest passes are $10 for adults; $8 for juniors (ages 2-17). A 10-punch guest pass is $60. Purchase your guest passes at the front desk.
Members may bring up to four guests per household per day and members must accompany guests at all times. Guests will not be permitted on Memorial Day, the Fourth of July, and Labor Day.
Complimentary Club guest passes 
Thanks to recent Board approval, complimentary guest passes are available for pickup at the front desk of the Club at Town Center. Each household is entitled to ONE punch-pass card which has 4 punches on it for 4 free guests. You will be asked to verify your name and address when you pick up your pass.
Other  things to note about guest passes:
The Club's amenities include: