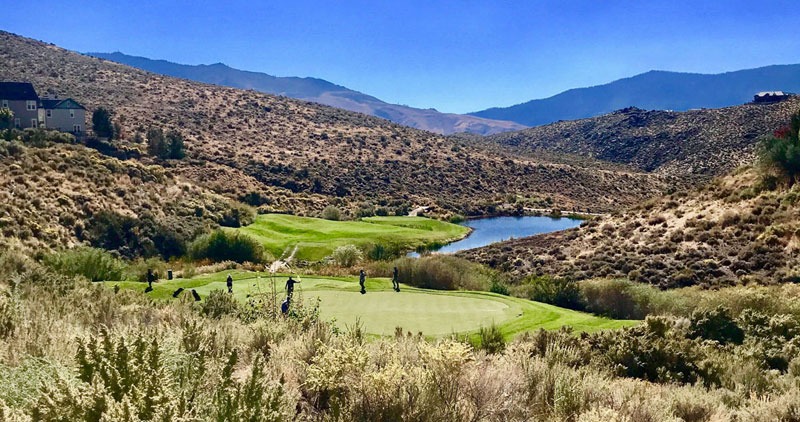 Canyon Nine Golf Course is a private course for the enjoyment of Somersett residents and their guests (including our sub-associations, The Village, The Vue and Sierra Canyon). Play is free for residents; $10 for their guests.

If the Golf Hut is closed, please check-in at the front desk of the Club at Town Center before you play.

The Canyon Nine Golf Course – an executive par 3 walking course – is the perfect choice for learning the game or a quick nine after work. No tee times required – play is first come, first served. For more information, please call 775.787.4500.

Pushcarts: We have pushcarts available to rent for $5. Pushcarts are available whenever the Golf Hut is open.


Hours of Operation
December-February: 11 am – 4 pm*
March-April: 9 am - 6 pm
May-August: 7 am – 7 pm*
September: 8 am – 6 pm*
October: 8:30 am – 5 pm*
November: 9 am – 4 pm*
*Weather permitting; please call 787-4500 to confirm
Canyon Nine Score Card
Canyon Nine rules

In the interest of all, please avoid slow play.

It is the player's responsibility to repair ball marks, replace divots and rake bunkers.

A ball coming to rest in natural vegetation areas must be abandoned. Areas surrounding Somersett are a natural habitat for the Great Basin rattlesnake. Be aware!

Soft spikes are mandatory
About Canyon Nine

Tom Kite designed Canyon Nine with a different methodology than the nearby 18-hole Championship Course, which is privately owned. He envisioned a series of controlled hitting areas rather than traditional tee boxes. You will notice these areas denoted on all holes. Varying your tee-off location will help reduce wear and tear to isolated tees. Holes #5, 6, 7, 8 and 9 each incorporate two separate hitting areas to appeal to different levels of play. Hole #9 is the course's signature hole encompassing a beautiful water feature.