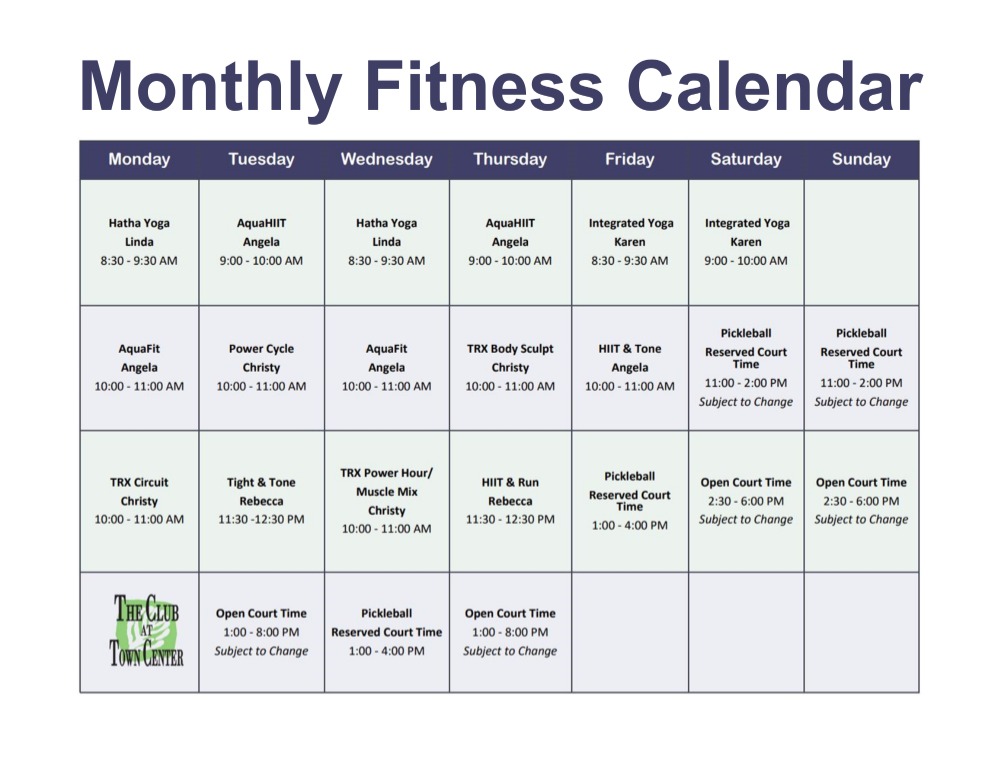 Calendar effective June 2, 2023

Please register for Fitness Classes and Tennis and Pickleball times through ACTIVENet.

Fitness Class descriptions


TRX Body Sculpt: A low-intensity, full-body sculpting class using the TRX suspension straps and weights, ending with a few minutes to relax and stretch out all the muscles. 
Hatha Yoga: Concentrates on physical health and well-being using body postures, breathing techniques & meditation techniques with the goal of bringing about a healthy body and a clear, peaceful mind. 
Integrated Yoga: Greet the morning slowly and methodically with deep stretching and mindful yoga practice, including meditative awareness. 
Power Cycle: A full-body cardio and strength class switching back and forth from the spin bike to the ground for weights. 
HIIT & Tone: Each class is comprised of 30 minutes of high-intensity rounds to boost your cardiovascular health and 30 minutes of toning exercises to improve your strength, balance, and coordination. 
Tight & Tone: Body sculpting and muscle toning are the focus of this total body workout. With an emphasis on the core and lower body, this class will include body weight, mat, and band exercises. 
HIIT & Run: Prepare to burn calories in this high-intensity interval training class. Cardio with a variety of different heart-healthy exercises is easy to follow and fun. 
TRX Circuit: A full-body, high-intensity circuit class split into four stations: TRX, spin, and two weight circuits. A mix of strength and cardio. 
TRX Power Hour: A high-intensity, full-body hour workout using the TRX suspension straps and weights. 
Muscle Mix: A full-body workout mixing it up with all kinds of equipment ranging from weights to straps to balls and kettlebells, ropes and bands.