The new gate access system is now live for all Private Streets neighborhoods.

This is the SAME SYSTEM as the access to Town Center. If you obtained a key fob, key card, or the Verkada app already during the past year as we've been announcing this system, there is nothing you need to do. The vehicle gates will operate similar to the doors at the Town Center.

If you have a key fob or key card, swipe the keypad just like you do at Town Center. Or, if you have the Verkada phone app, you'll get near the access point: drive up to the area near the keypad, wait three to five seconds for the gate to sense your phone and it will open. Or you can enter your gate code, or use the remote unlock. 
Please note:
The Cliffs and Brae community gates are still under the control of their respective developers and may be upgraded at a later date. The Village and The Vue gates are not part of this project.

What you need to do IF you do not already have the key fob, card, or Verkada Pass app:
#1 - GET ACCESS: If you haven't done so already, download this electronic access application, fill it out and email it to [email protected]. Or you are welcome to stop by the front desk and fill out the form.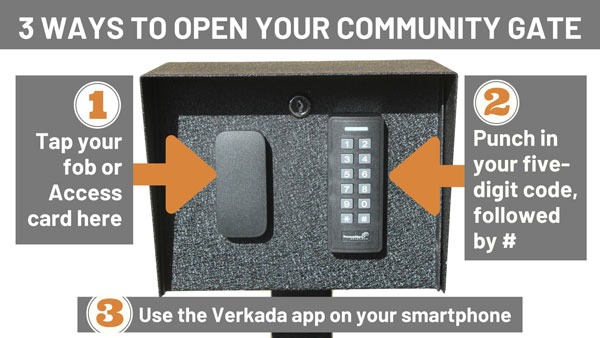 Option 1: Use the App:
1. AFTER you have submitted the completed form, and AFTER you've received the invitation email to download the app, then download the Verkada Pass app  -- you can't access the app until your residency has been verified and you've been sent an activation link < this process protects residents from other people downloading the app and getting access to your neighborhood.
2. Once downloaded, open your phone's settings, and click on the Pass app. Make sure the location is set to "ALWAYS" and that your Bluetooth is turned ON. This is required for your app to work.
3. Open the app and NO NEED TO SELECT A PASSWORD. The app link is all you need. Follow the link to enter your email address. You must use the same email address you used on your electronic access application form. EACH PERSON NEEDS AN EMAIL ADDRESS. 
4. Accept ALL notifications and alerts!
5. Start using the app! Please note: The sensor for the app is located on the gate control box, not on the gate itself.

Option 2: Use the TCTC Key Card or Key Fob:
1. Obtain a key card or key fob from the front desk after you sign the electronic access application form (if you already have a TCTC after-hours key card or key fob, you'll can use that to open your community gate). If you don't have a TCTC Key Card or Key Fob, get one now.
Note: You must touch the gate control screen with your fob or card in order for the gate to open.

Option 3: Use your unique code
1. Every resident living on a private street in one of the neighborhoods listed above (at the top of this page) will receive a letter with their unique 5-digit code (every resident has a different code). Enter the code, then # sign. 
The letter will be received about 10 days prior to the gates going "live" in your neighborhood. That letter has your unique code which was randomly assigned. Use that code to open the gate. You can also give that code to friends and family to let them in. 

Option 4: Remote access
To use the remote access unlock for VEHICLE GATES ONLY just TAP the padlock on the right to unlock the gate from anywhere, anytime to let in vendors, friends, and family. This only works on vehicle gates, not Town Center 


THIS IS THE SAME SYSTEM AS THE ONE FOR TOWN CENTER. 

Utility companies, police, fire, Amazon, UPS, Fed-ex, school buses and so on all a unique code for their company. If you have a specific vendor, you'll give them your code to enter your neighborhood or, use the remote unlock feature to let them in. 

Frequently asked questions: