Personal training is a great way to get personalized fitness routines designed to increase your performance and get results. Whether you are new to the gym, coming back after some time off, or you want to shake up your normal routine, our personal trainers can help you work out safely efficiently.

Erika Clark: To schedule a complimentary 30-minute consultation with NASM certified personal trainer, Erika Clark, please contact her at [email protected].  For more information, see this Personal Training Brochure

Dell Etherly: Dell specializes in strength and conditioning and Erica's focus is fitness and mobility. Sign up for a private session and pay at the front desk. The cost is $65 for a 1-hour private session; $375 for 6 sessions, $600 for 10 sessions, and $720 for 12 sessions.

Four-week training program
Do you want to jump-start your fitness? Do you need some guidance on which exercises will best help you achieve your specific fitness goals? The Club at Town Center's new four-week Fitness Training program may be just what you are looking for.
 
Personal Trainer Erika Clark will administer the program, which costs $90. The program includes:
A one-hour fitness evaluation and consultation before beginning the program. 

Access to the Trainerize app.

New custom programming available every four weeks. If you like, your program can be specific to a sport, such as golf, tennis, or skiing.

Monthly progress photos.

Direct messaging to Erika via the Trainerize app.

Motivational posts, including healthy eating and lifestyle tips, at least three days a week. 

Check-ins by Erika 1-3 days a week, depending on compliance.

Erika will track participants' progress to see if they are completing their workouts.

A rating system allows participants to give Erika feedback after each workout so she can make adjustments if needed.

Participants control their calendar – work out whenever it is convenient.
 
The Trainerize app has a huge workout video library with which allows Erika to upload videos – her own or from YouTube. "This is invaluable,'' Erika says. Participants can click on a video to double-check exercise performance to ensure proper form during the workout or at any time. Plus, the app is very easy to use.
 
Want to work out at home? If you don't want to work out in the gym, Erika will suggest purchasing a small set of equipment, such as exercise bands and a stability ball, and she will design a customized home workout program.
 
"This is perfect for people who don't want personal training, but just want guidance in the gym,'' she says.
 
And if you prefer not to use the app, Erika will print out a paper copy of the exercises and workouts.
 
To sign up for a FREE consultation, contact Erika Clark at elchealthandwellness.com.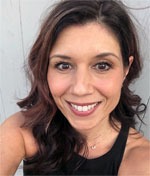 Erika Clark