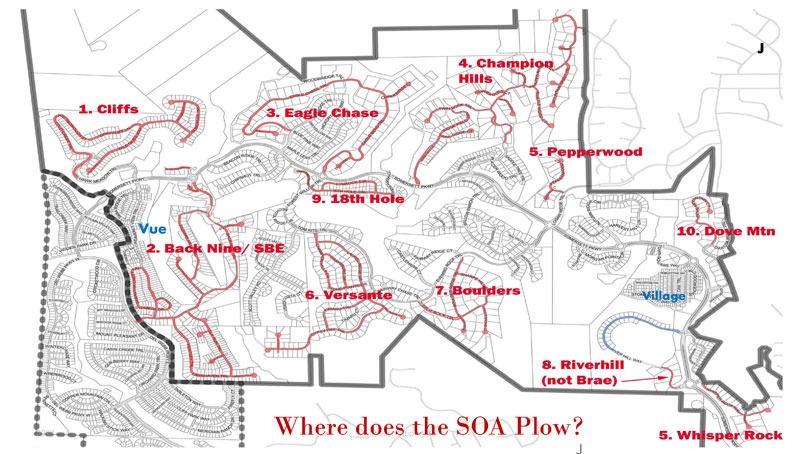 This map shows the Private Streets plowed by the SOA (highlighted in red) and the order in which they are plowed. Streets with steep slopes get first priority.
Click here to view a PDF with great information about snow removal policies, snow removal tips, and more.

Snow removal in Somersett
Keep in mind, snow is temporary. Typically, Reno doesn't receive a lot of snow, and temperatures
generally warm up rather quickly and help to relieve snow that remains.

About 1/3 of Somersett residents live on private streets maintained by the SOA; residents in The Village and The Vue contract separately to maintain their own streets, the builder is responsible for clearing the snow in Brea, and the remaining streets are maintained by the City of Reno. If you don't know whether you live on a city street or SOA maintained street, see this list of streets or refer to the map above.

Homeowners are responsible for clearing sidewalks adjacent to their property.

The Association will plow the common area pathways/sidewalks along the three major parkways (Somersett, Del Webb and Somersett Ridge) if there is still snow on the walkways within 48 hours after the end of snowfall.

SOA snow removal on Private Streets
Currently, the contractor performing snow removal operations is Reliance Grounds Management.

Private streets within the Association will be snow plowed when there is an accumulation of 3 inches on the street. The first pass of snow plowing is typically completed within three hours of when it begins. The first priority is streets with steep slopes, then all main streets, arterials, and then cul‐de‐sacs.

Depending on storm conditions, sidewalk snow plowing begins on Somersett Parkway first, which may be during a multi‐day event or the day following the storm. The next priority is clearing in front of mailboxes on Private Streets.



City of Reno snow removal operations


Visit the city's website here or to report an issue, call the City at 775‐334‐INFO or email [email protected].


Tips for snow removal

Clear your driveway and sidewalk when the snow is still fresh when it's much easier to clear.
Similar to when clearing your driveway, when the streets are plowed the snow is simply pushed from the roadway to the sides of the street. Therefore, prepare for berms and impacts from roadway snow removal. Clear your driveway to the right, NOT to the left. If you clear your snow to the left of your driveway, the plow cannot avoid picking up that snow that will be left on the driveway. Clear your driveway to the RIGHT minimizing impacts of berms.
Don't push snow from your driveway into the street, which impedes snow plows and creates unnecessary additional snow on the street, especially after the plow has been by.
Clear the sidewalks in front of your house as soon as possible after the storm, within 48‐72 hours.
Snow Removal Town Hall
The Board and committee members held a Town Hall on Snow Operations in Somersett on Jan. 24, 2023. Click here to view a video recording of the presentation.




Snow removal resources (partial list):

Cory's Lawn Service: 775-686-0123

Jacobs Lawn & Home Services: 907-575-0623

Sierra Outdoor Service: 775-224-3690

Handsfree USA: 775-813-8298

Tree Amigos: 775-412-3700

Robert Landry: 775-379-9274

Craig Cathey: 909-855-8656

Marc Bourriague (only available evenings and weekends): 530-386-7087

Keeping It Green Lawn Service: 775-225-8552

Canyon Lawns: 775-636-1906/775-221-1875

L & R Landscape: 775-287-4596

Ryder Sefcheck (Somersett teenager): 775-813-1738

Max Parker (Somersett teenager): 775-470-1134