Stay in touch with your community!
Sign up for enewsletters from Somersett Owners Association by filling out THIS FORM

 _____________________________________________________________________________



When: Thursday, Nov. 4 | 4:30 – 6:30 PM
Please join us at the Club at Town Center to taste over 15 wines paired with delectable charcuterie and flatbreads catered by Whispering Vine. For a sweet treat, pair your favorite red with a Dorinda's handmade chocolate truffle!
Grammy-winning harpist Anne Roos plucks the strings all evening long!
As you enter, you'll receive a commemorative engraved wine glass. Then meander to taste a wide variety of selections from Nevada Sunset Winery and Whispering Vine: Cabernet Sauvignon, Pinot Noir, Red Blends, Chardonnay, Prosecco, and Champagne. You can even order your favorites for the holidays!
Fill your appetizer plate from multiple charcuterie planks of meats, cheeses, nuts, fruit, and bread. Please your palette with two selections of flatbreads! And finish your evening with Dorinda's Handmade Chocolate Truffles. 
Two roaring fireplaces will take the chill off any cold weather outside!
Cost: $55 per person
Click HERE to register on Eventbrite (there will be a small convenience fee). Or purchase your tickets at the front desk of the Club (no fee), 775-787-4500.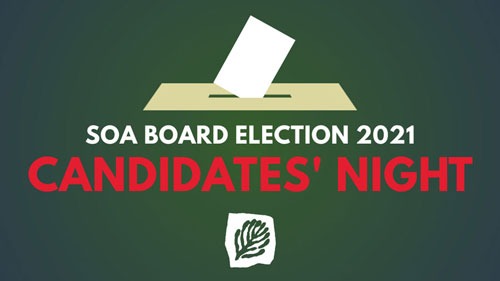 Candidates' Night
When: Tuesday, Oct. 26, from 6-8 pm
Where: The Canyon View Room at The Club at Town Center and via Zoom
All Somersett members are encouraged to view this Q&A session with the four candidates for the SOA Board moderated by the Association's Communications Committee. This session represents a chance to see what the candidates' positions are on various issues affecting Somersett residents. If time allows, attendees will have the opportunity to pose questions to the candidates after the formatted session ends.
If you plan to attend in person, please FILL OUT THIS FORM so that we can be sure to have enough food, beverages, and seating.
CLICK HERE for more information about the candidates, Candidates' Night and voting.
If you would like to access Candidates' Night via Zoom:
Zoom link: https://us06web.zoom.us/j/87458505325?pwd=Q2phaWJLeDIyNGJkUTFWbklvZkllUT09
Meeting ID: 874 5850 5325   Passcode: 202993
Dial in: +1 720 707 2699
Our Featured Sponsor
These businesses pay an annual fee to our Association, helping to defray the cost of this website and technology improvements. While the Association does not officially endorse them, we hope that if you are in need of some of these services or products, you will give them sincere consideration. 
See the full page of Our Sponsors
 
 
 



 
 


Agency owner for Exclusive AmFam policies for home, auto, umbrella and life insurance from a local agent – located at the Town Center.


 
 
Address: 7665 Town Square Suite 205G (by appointment only)
Phone: 775-833-1189 or text 775.204.2254 or quote online
www.SomersettInsurance.com
 
 

Somersett resident since 2014

 
Interested in becoming a sponsor? Fill out this interest form and we will be in touch.