Stay in touch with your community!
Sign up for enewsletters from Somersett Owners Association by filling out THIS FORM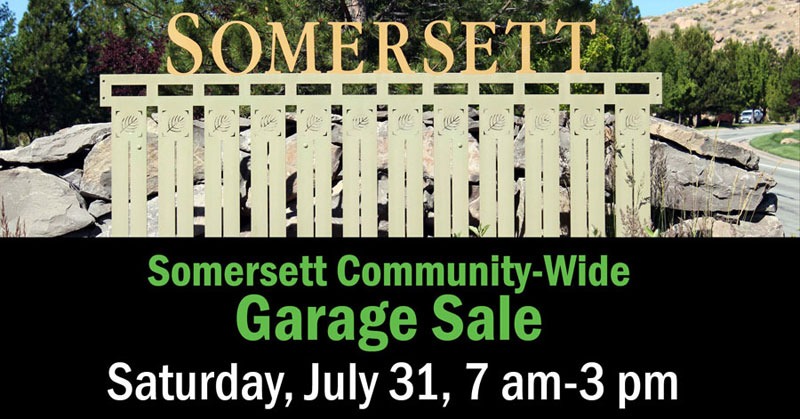 Somersett residents: Is your garage overflowing with "stuff'' you'd like to unload? Here is your chance - the community-wide Garage Sale on July 31 is the second of three HOA-sanctioned garage sales this year. To be listed on a map of participating homes, please fill out this form - https://www.somersett.org/p/Sign-up-for-July-31-Garage-Sale - or email [email protected] with your address no later than Monday, July 26.

Want to shop the sale? Don't miss one of Reno's BEST community sales! A convenient digital map of participating homes will be available on this page starting on July 27.

Participation in the garage sale is open to ALL Somersett residents, including Sierra Canyon.

Can't make the July 31 garage sale? Mark your calendar for the fall sale on Saturday, Oct. 2.


Don't miss this WWW-sponsored garage sale!
If you are shopping at the garage sale on July 31, be sure to stop by the Wild Whimsical Women's (WWW) fund-raising garage sale between 7 am and Noon at 1758 Evening Rock Court (off Roundabout 4). The WWW will have a wide variety of gently used, high-quality clothing, household furnishings, and housewares. Early-bird shoppers can enjoy donuts and coffee for a small donation! In addition to the sale items, the WWW will have a raffle of several fabulous gift baskets, donated by the Katie Grace Foundation. Tickets will be drawn at noon or at the close of the sale. You need not be present to win! 

Proceeds from the sale and raffle support the WWW's projects for Eddy House, the Empowerment Center, Veterans Outreach, Katie Grace Foundation and other charitable groups in the community.









Wine Tasting on Aug. 18!

Relax, sip and savor wines from Reno's own Nevada Sunset Winery (the owner, Alynn Delisle is a Somersett resident!) and the Basin and Range Winery during a Wine Tasting from 6-8 pm on Wednesday, Aug. 18, at the Club at Town Center. For your listening pleasure, Grammy-winner Anne Roos will perform an eclectic mix of music on her Celtic harp. Tickets are $25, and include the wine tasting, light snacks and music. Tickets are limited, so be sure to reserve your spot early!

This event is presented by the Somersett Community Events Committee and is open to ALL residents of Somersett, including those who live in Sierra Canyon. We look forward to seeing you there!

Reserve your spot HERE THROUGH EVENTBRITE ($1.95/ticket convenience fee). To avoid fees, reserve your ticket at the front desk of the Club, 775-787-4500.