Welcome to our new website!
If you are having trouble registering, please see this Resident Website Guide or our Website FAQs page. To contact a staff member about a website issue, fill out this form.


---
Fire fuel reduction project begins
Update on 1/12/21: This project began on schedule! Wilderness Forestry is on-site behind the Whisper Rock Gate.

The first phase of a yearlong fire fuel reduction project in SOA common areas begins on Tuesday, Jan. 12. Phase One will involve creating a 15-foot defensible space behind homes' split-rail fences wherever possible. Wilderness Forestry, Inc., the contractor performing the work, will cut vegetation to the ground in these areas and will trim lower branches on trees to prevent the branches from becoming "ladder fuel."

Read the full article


---
New pet stations in Somersett 
We have some good news for Somersett dog owners. Four new pet waste stations are installed and ready for your "deposits.''
Here are the locations:
Somersett Ridge Pkwy, near the west entrance
Back Nine Trail, between Huntley and Crescent Pointe
Scott Valley at Forest Willow Trail
Somersett Pkwy near Autumn Valley Way
See this map
Please be considerate of your neighbors and clean up after your fur babies!
---

A big Chia Pet?
Did you notice a patch of a brightly colored green substance along a rocky hillside in between the east entrance and Roundabout 1? Were you wondering what it could be? You might want to think of it as a BIG Chia Pet.
---




Board plans a series of resident e-surveys
Starting in January, the SOA Board of Directors intends to obtain feedback directly from homeowners on a variety of subjects. These may include: budget/spending (to spend or not to spend/how much to spend); facilities (what to do with or about …); communications (how are we doing?); staff (do we have the right people doing the right things?); and many other topics.
Read the full article
---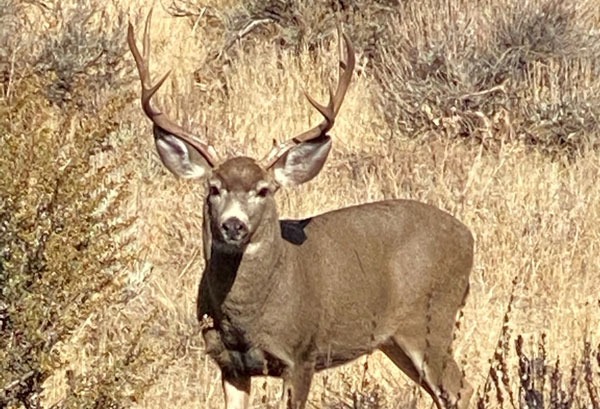 Watch out for migrating deer!

There have been multiple recent sightings of mule deer in Somersett, including along the parkways. This time of year the deer are making their seasonal migration from higher to lower elevations, bringing more of them our way. The deer are most active in the morning, evening and on moonlit nights. For safety's sake, slow down and keep an eye out for them when driving on Somersett roadways.
It's also the breeding season, which brings erratic behavior. Here's a description from the Nevada Department of Wildlife: "Breeding season, or the rut, occurs in November to December. A buck will find a suitable doe and they will often play chase games at breakneck speeds before mating."