Stay in touch with your community!
Sign up for enewsletters from Somersett Owners Association by filling out THIS FORM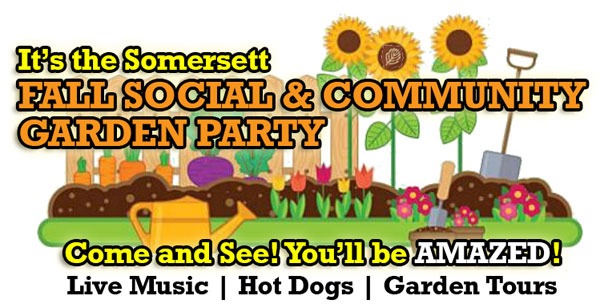 Somersett Fall Social & West Park Garden Tour
Thursday, Sept. 30, 5-8 pm
Last spring, Somersett gardeners planted their 50 lottery-won plots. And you won't believe your eyes when you see what's popped out of the ground! Eight-foot sunflowers and wildflowers of every color! Tomatoes by the bushel! Squash and pumpkins of all sizes! Lettuce, vegetables, tall corn, and more!
Come and see the bounty for yourself during Somersett's Fall Social at West Park on Hawk Meadow Trail (off Somersett Parkway across from the Vue). We encourage new and old Somersett residents to attend. SOA Board and Community Garden Committee members will be there to greet you.
Bring your own blanket and picnic dinner or purchase a grilled hot dog dinner including chips and soda from the Somersett Garden Committee for only $5. Cookies for a buck. Beer and wine spritzers for adults! CASH ONLY, PLEASE. Proceeds from the food and beverage sales will benefit Community Garden projects.
Throughout the evening, enjoy guided tours of the bountiful garden plots. Talk to Somersett's amateur gardeners and find out what they planted, why, and how they nurtured their seeds into what you see now! If you're lucky, and with permission, you might even get a taste right off the vine!
Live music will be provided by MOXY RUCKUS who will deliver decades of rock, pop, dance, ballads as well as current country hits.
Parking is very limited. We suggest that you walk, ride your bikes, bring your golf carts, or carpool. Well-mannered, leashed dogs are welcome.
This event is FREE, but we would appreciate your RSVP by clicking HERE so that we can gauge food and drinks.
For information, please contact Event Coordinator Jenny Williamson: [email protected]
 _____________________________________________________________________________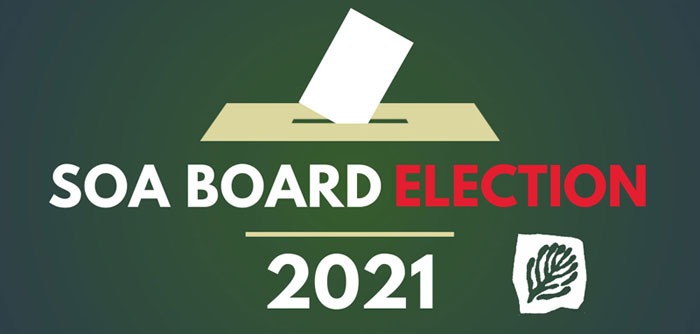 Seeking candidates for open Board positions
Would you like to add your valuable input to the Somersett community by serving on the SOA Board of Directors? Becoming a member of the Board is a great way to give back to your community and neighbors and at the same time, the position gives you a chance to influence Somersett's policies and regulations.
Two Board positions will be filled during general elections this fall. If you would like to run for one of these open spots, please complete this Candidate Statement in its entirety and return on or before October 1 to the onsite office located at The Club at Town Center. The completed forms will be reproduced and provided in a mailing to the membership. We also ask that each candidate provide a headshot via email to [email protected] for posting on the website. 
Candidates will also be asked to participate in a Candidates Night Forum moderated by the Communications Committee and scheduled for the evening of Tuesday, Oct. 26.
Board election ballots and candidate statements will be mailed to unit owners by Oct. 15. Nevada law requires that all directors be elected by secret written ballot. Only you can vote on your secret ballot, which must be completely filled in and placed in the envelope marked secret ballot. It will not be opened until the annual meeting on Nov. 15, 2021. Ballots returned by U.S. Mail must be sent to The Club at Town Center, 7650 Town Square Way, Reno, NV 89523 by Nov. 14. Ballots may also be returned in person to the ballot boxes at either the Club or Aspen Lodge, no later than 1 pm on Nov. 15. No ballots will be accepted at the annual meeting
Our Featured Sponsor
These businesses pay an annual fee to our Association, helping to defray the cost of this website and technology improvements. While the Association does not officially endorse them, we hope that if you are in need of some of these services or products, you will give them sincere consideration. 
See the full page of Our Sponsors
Interested in becoming a sponsor? Fill out this interest form and we will be in touch.